Pregnancy Massage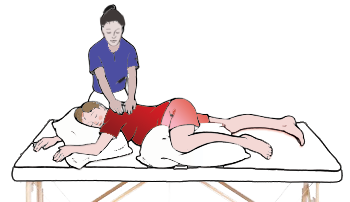 This massage targets all areas of the body which are put under strain during pregnancy, especially the lower back, hips and pelvis. But as many women continue to work well into their pregnancy all issues can be addressed as well as giving the opportunity for relaxation.
Women can have the treatment time tailored to their needs for example massage & reflexology to help with anxiety, swollen ankles and hormonal balance. Facial massage or Indian Head Massage can be included for a deeper level of relaxation. For more information on Maternity Reflexology please visit Maternity Reflexology at www.reflexologybypaula.co.uk/maternityreflexology.html
Preparing for the arrival of a new baby brings much excitement, but also plenty of stress, massage can help reduce stress levels due to its calming effect. Research shows that the baby can benefit greatly from massage as "feel good" endorphins released by the mother during the massage are passed onto the baby. It is not unusual for mother to feel the baby kick and move as it too responds to the massage treatment.
The massage is carried out with the client lying on her side and the baby is supported using pillows. This enables the therapist to work on the clients back, arms, legs, feet and abdomen.
The Benefits of Pregnancy Massages
Stimulation of the circulation and Lymphatic drainage
Releases muscular tension and helps to avoid varicose veins
Induces relaxation and help with emotional stress
Helps to lower or balance high blood pressure
Looking for something special Search Massage By Paula website